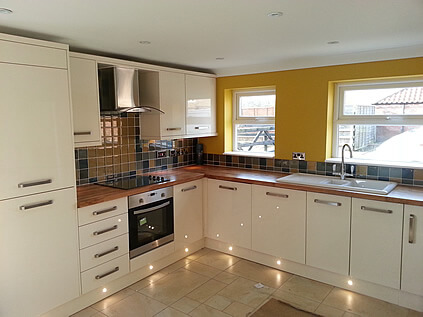 Kitchen Fitting Advise
London Kitchen Fitting Cost guide
You don't have to break your bank for kitchen fit services in London, or do you? With the right approach and consulting the right kitchen fitter, you'll have your kitchen renovated at a reduced price. Let's look at what dictates the final cost.
Why should you consult a kitchen fitter?
Kitchen fitters are professionals and they'll ensure you get what you want. Most London kitchen fitters will do what is dubbed "dry fitting". That is, they'll only fit appliances, furniture, taps, etc. They are not responsible for connecting your appliances. They can also offer plastering services, fit worktop, re-tile the floor, and other simple improvements. It's advisable to find a skilled tradesmen to do the full job and provide you with overall cost.
How much is the cost of kitchen fitting in London?
Well, the cost varies due to several factors such as space, location, material, and more. On average, You can reduce the cost of kitchen fitting by getting the right advice from an experienced fitters near you. You should request Free kitchen fitting quotes in London from different kitchen fitters so you don't use more than your budget.
How much for a new open plan kitchen?
Again, space here matters and the appliances you need to be fitted. For example, if you are creating a new space altogether, then this will cost you more. However, if you are remodeling your open space kitchen, you maybe required some extra building work example adding partition walls and plastering, that is also cost you should consider.
What are the benefits of consulting a kitchen fitter?
Kitchen fitters are accountable for what they do. This means that you'll not incur additional costs as the project progresses. They are also time conscious ensuring the process lasts for the stipulated timeline. And since they are experienced, you can expect top-notch work from them.
How long will the kitchen fitting last?
It can take at least two weeks depending on the complexity, space, and other factors discussed above.
Get Free no obligation Kitchen Fitting quote from Fit and Renovate.
How can you make kitchen fitting cost less in London?
Instead of buying all material, you can decide to use what you have. Let's look at a few ways you can reduce the cost of designing your kitchen.
It is common for kitchen fitters to opt for new materials, however, to cut on cost, you can let them use what is savable. For example, instead of buying a new worktop, why not recut and fit the old one. You can even repaint doors and cabinets saving you money.
There's no need to break the bank in a bid to improve your kitchen design. If possible, go for affordable fitting since you can settle on more expensive ones in the future. For example, you can use bespoke furniture on your Kitchen Island and standard timber in other areas.
Try to do some parts yourself
If you have the time to remodel your kitchen, then go ahead. You can try to take some simple tasks, example removing and disposing  old units, old tiles and flooring that can reduce some of the cost.
Look out for sales deals
To avoid spending too much on appliances, shamelessly take advantage of deals that pop up once in a while. You'll be surprised by buying a worktop at half the price. One way to go about it is to subscribe to big brand newsletters.
Get Free no obligation Kitchen Fitting quote from Fit and Renovate.
Wrap up!
There's no one-fits-all cost when it comes to kitchen fitting. As we have discussed, the location, complexity, and appliances will impact the final cost. Fit and Renovate, London based kitchen fitters can do the full renovations and provide you with a competitive fitting and installation price, Get a Free Quote today.
 Find out how much fitting a new kitchen in London, advises on remodelling and re designing your from experienced London Kitchen Fitters