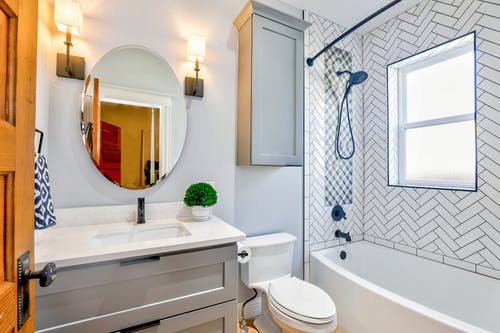 Bathroom Fitters Tips
Simple Bathroom Design and Installation Ideas in London
Wondering which is the best bathroom design? Well, in this article we share with you tips and tricks that will allow you to come up with the best design for your bathroom. The best part: these ideas do not require you to break your bank. Let's dive in!
How much does it cost to fit and renovate a bathroom in London?
Well, like any other remodeling task, a lot comes to play when considering the final cost. Here, you'll need to consider the design, service provider, the types of bathroom sanitary ware you are plaining to buy, and more. However, on the bathroom installation in London can be costly, you can reduce your cost massively by getting advise from an experience bathroom fitting company.
Again, you need to keep in mind the type of appliances you'll be using. Are they high-end or standard? For example, a standard bath costs £150 while a high-end model will have you shell £1000 plus.
Here are a few bathroom ideas that you can use.
It is tempting to jump from one design to another. Instead, you should come up with a design that will have you make minimal changes from the current layout. This will reduce the costs of plumbing. You can consult local bathroom fitters so that they can approve the design.
Before plastering commences, ensure that you have all sanitaryware where it should be. This means the bathroom fitter will have an easy time distinguishing spaces where the sink, toilet, taps, shower, and bath will be.
You don't have to fill your bathroom with luxurious sanitaryware. Your bathroom will appear neat and spacious.
In the age of IoT, it is recommended you include a touch of tech in your bathroom design. For example, you can use a wireless showerhead, bidet toilet seat, a smart toilet, and more. Just ensure you don't go overboard as this will increase the cost of designing your bathroom.
Mirrors make a small bathroom look spacious and neat. Place a large mirror on one wall to reflect light from the window. This will make it appear more lit.
To avoid dampness, which is synonymous with bathrooms, install adequate ventilation. Besides fitting large windows, you can install a vent fan. It also helps keep off the odor.
Use bathroom friendly material
Avoid using material that is susceptible to rotting or producing hazardous gases when exposed to water. You can choose waterproof paint and tiles to avoid the formation of mold.
There are numerous bathroom fitters in London but not all are reputable. As such, you should do background research about the fitters you plan to consult. Check for red flags such as asking for money upfront.
Want to feel closer to nature as you have your shower? Why not install sliding doors towards your courtyard. Besides providing a relaxing atmosphere, your bathroom will be adequately ventilated.
Wrap up!

As you can see, coming up with the best bathroom design is as easy as installing a mirror, using sliding doors, and other simple tweaks. To be on the safe side, consult London bathroom fitters Near You.