5 Good Kitchen Refurbishment Ideas
It is so lovely to have a nice-looking home with the living room area looking beautiful, and the kitchen just next to the living should be as good looking. It should be stylish and also be the centre of attention at parties or events.
However, the most crucial aspect of a fit kitchen is it should be functional. That's why a kitchen renovation would be best if you feel your kitchen is outdated. When doing a kitchen fitting in London, it is best to search for London kitchen fitters to get a well-looking kitchen.
We have written the top 5 ideas that will make your kitchen looking fresh. These ideas are helpful to those that want to renovate a part of a kitchen or the whole kitchen design.
1. Go for a grey kitchen.
Grey is a practical colour for a kitchen considering children, pets, and the messiness of cooking. London kitchen fitters can pair it with other colours or theme colour for appliances to create a pop of colour. Consider combining the different shades of grey to create a grey kitchen. You can also fit a worktop of a different colour of the type of worktop like granite and marble.
2. Do the unexpected on the walls.
Walls are a massive part of kitchen renovations as there are endless options to choose from when doing a kitchen fitting in London—tiling the whole wall or tiling the splashback. You don't have to tile all the walls you could just create a feature wall on your kitchen by tiling it. Choose a tile pattern depending on your taste and one that goes well with your kitchen design.
3. Change the look of cabinets.
There are different ways to renovate your cabinets, like painting, choosing cabinets with glass fronts, or changing to handle-less cabinets. Let's look at how the three methods can update your kitchen.
You can choose to paint all the cabinets, one colour like a bold colour or a dark colour like black or dark blue. Alternatively, you can choose two colours and mix and match them on the cabinets.
To showcase your kitchenware, or appliances fit cabinets with glass fronts. They will create more depth and an artistic design if you artistically arrange the kitchenware.
When doing a kitchen fitting in London, you can opt for handle-less kitchen cabinets, which creates a modern, clean look in small kitchens.
Fitting a kitchen island is another great idea when renovating your kitchen.  It is usually placed at the centre of a kitchen. It creates extra storage, and you can also fit a sink on the island.  
You might require a kitchen fitter to install and advise on a grand kitchen island that fits your kitchen's design. Check out London kitchen fitters when choosing the shape and style for your kitchen island.
5. Create a pattern with floor tiles
If you think tiling a wall creates too many patterns, then tiling your kitchen floor will be a good idea. Tiles are the right choice in renovations as they can change the appearance of your kitchen. Since they come in various styles, designs, and patterns you wouldn't miss one that suits your style.  
Kitchen Renovations can be done gradually, and even you can do it yourself, but it requires a lot of work for a kitchen. There is so much that goes into detail to get your dream kitchen, which is why it is best to use London kitchen fitters to fit a kitchen that will do a great job than DIY.
Kitchen Fitting Services In London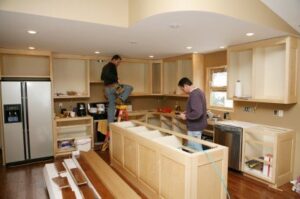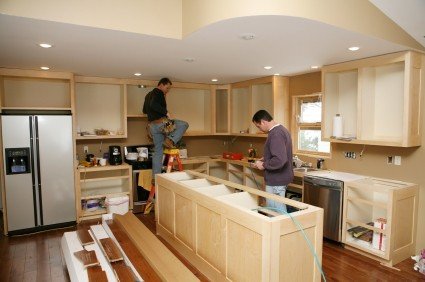 Contact Fit and Renovate Professional London Kitchen Fitters Today:
Professional and reliable London Fitters
Quality workmanship as a standard
Free estimates and quotes
Realistic start dates and completion dates
Affordable prices for full Kitchen Fitting work
Workmanship guarantee